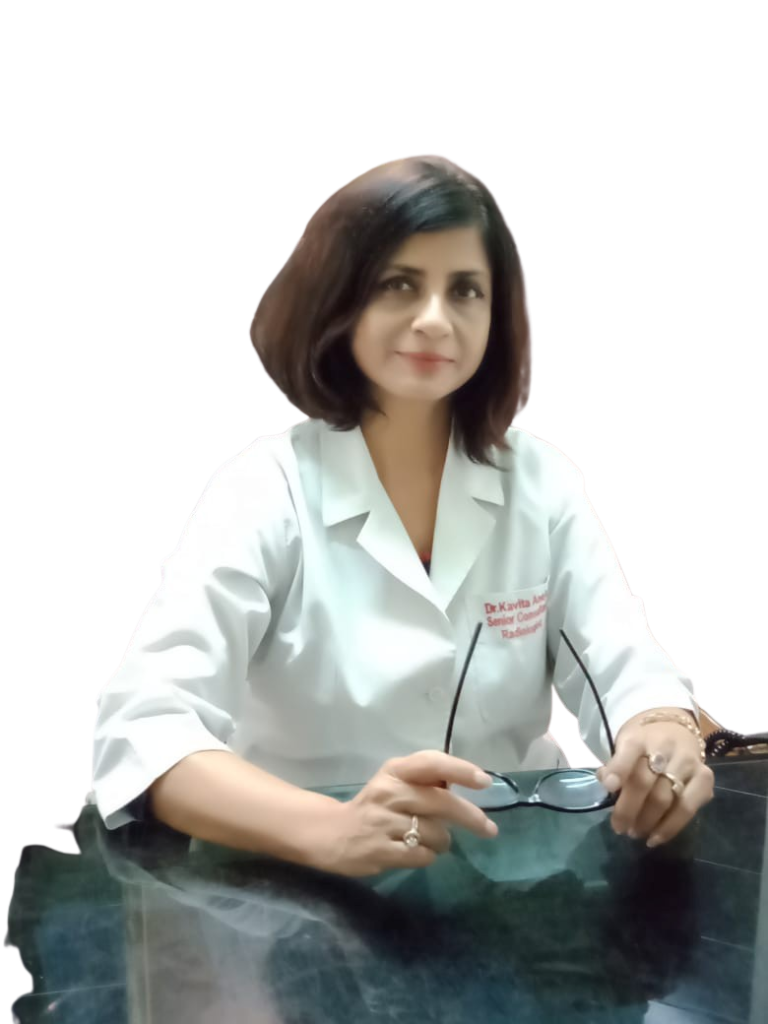 Senior Consultant Radiologist & Ultrasonologist
A graduate and post graduate from PGIMS Rohtak, she is a practicing radiologist and the director of Images Ultrasound Diagnostic Centre in Rohini for the past three decades.
Her core areas of interest and expertise are – Carotid sonography and Fetal medicine, for which she has been an invited faculty in state, national and international radiology conferences.
She has identified and coined a new medical sign, the "K angle" for the early diagnosis of congenital anomalies by ultrasound, which is published in IJRI, the most reputed Journal of Radiology and has been cited in various academic forums.
She is a recipient of the best paper awards and Gold Medals in national and international radiology conferences as also the Women Achiever's Award in 2018.
"Understanding the unborn" is her passion.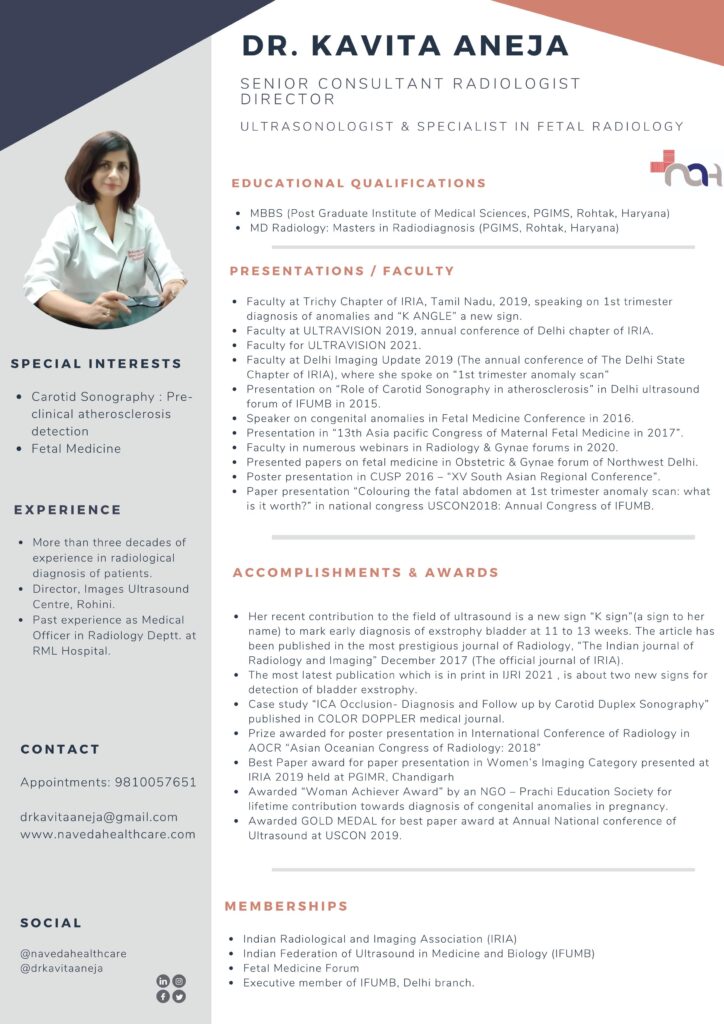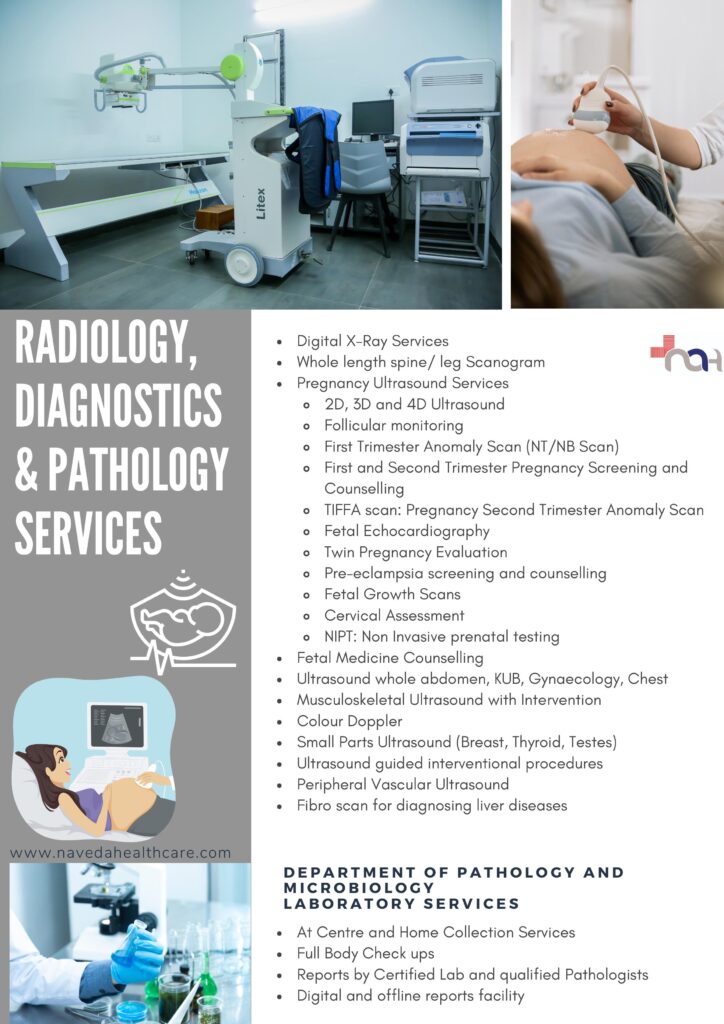 PROFESSIONAL QUALIFICATIONS:-
MBBS (Bachelor of Medicine and Bachelor of Surgery)

1980-1986
Post-graduate Institute of Medical Sciences, Rohtak
MD (RADIOLOGY) (Masters in Radiodiagnosis)

1987-1989                                              
Post-graduate Institute of Medical Sciences,  Rohtak 
           SPECIAL INTEREST:-
➢ Carotid Sonography
           Pre clinical atherosclerosis detection.
➢ Fetal medicine
 PUBLICATIONS & PRESENTATIONS:-
Presentation on "Role of Carotid Sonography in atherosclerosis" in Delhi ultrasound forum of IFUMB in 2015
Presentation on congenital anomalies in Fetal Medicine Conference in RR hospital in 2016 Presentation in International conference of Fetal medicine "13th Asia pacific Congress of Maternal fetal Medicine in September 2017 in Gurugram".
Published a case study "ICA Occlusion- Diagnosis and Follow up by Carotid Duplex Sonography" in COLOR DOPPLER I October 2014 I volume – 3 I issue 10
Her recent contribution to the field of ultrasound is a new sign "K sign"(a sign to her name) to mark early diagnosis of exstrophy bladder at 11 to 13 weeks and its differentiation from similar ventral mass. The article has been published in the most prestigious journal of Radiology, PubMed indexed journal of "The Indian journal of Radiology and Imaging" volume 27 / Issue 4 /  October – December of 2017(The official journal of IRIA).
Has put up poster in CUSP 2016 at Chennai – "XV South Asian Regional Conference".   
She won a prize for her poster in international conference of radiology in AOCR "17th Asian Oceanian Congress of Radiology – January 2018 at Mumbai"
Has presented a paper "Coloring the fatal abdomen at first trimester anomaly scan – what is it worth?" in national congress – USCON2018 – 27 Annual Congress of IFUMB and AFSUMB in November 2018 at Indore
She received Best Paper award for her oral paper in Women's imaging category presented at IRIA 2019 (72nd Annual conference of IRIA at PGIMR, Chandigarh January, 2019)
She was an invited faculty at Delhi Imaging Update 2019 (The annual conference of The Delhi State Chapter of IRIA) held in March 2019,  where she delivered a talk on "First trimester anomaly scan"
Was awarded "Woman achiever award" by an NGO – Prachi Education Society, Registered under societies Registration Act 1860 for contribution towards diagnosis of congenital anomalies in pregnancy.
She has presented papers on fetal medicine in Obstetric and Gynae forum of Northwest Delhi.
Was awarded GOLD MEDAL for best paper award at annual national conference of ultrasound at USCON 2019 held at Goa in September2019.
She was an invited faculty at SAMRAKSHAN, TRICHY CHAPTER OF IRIA , TAMILNADU, in November 2019, where she spoke about first trimester diagnosis of anomalies and " K ANGLE" a new sign by her name.
She was an invited Faculty at ULTRAVISION 2019, annual conference of Delhi chapter of IRIA held at hotel Raddison blue Dwarka in December 2019.
Is an executive member of IFUMB Delhi branch. 
            PROFESSIONAL MEMBERSHIPS:-
         1. Life member IRIA (Indian Radiological and Imaging Association)
         2.  Life member IFUMB (Indian Federation of Ultrasound in Medicine and Biology)
         3. Life member FETAL MEDICINE FORUM